Each year, Employee Benefits Adviser names an exclusive group of women from around the country to its annual list of Most Influential Women in Benefits Advising. Cerrina Jensen, a member of the Leading Producers Round Table since 2012, is on this year's list of 30 women from around the country.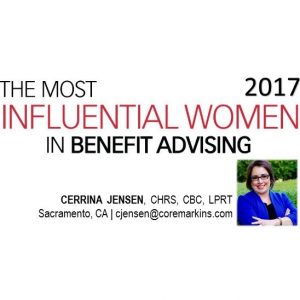 This prestigious award recognizes female industry leaders for a variety of achievements, including the know-how to find substantial savings for employer clients and strengthen an organization's bottom line, such as Cerrina Jensen does in her benefits practice with CoreMark Insurance Services.
Cerrina joined CoreMark in 2012, bringing with her a wealth of experience in helping California employers grow their business organically. By providing business owners with a proven set of strategic best practices, Jensen collaborates with her clients to design and administer high-performing employee benefit programs that boost employee morale and productivity, and company financials.
She has also earned several awards for her outstanding leadership and outcomes, including back-to-back Member of the Year accolades by the Sacramento Association of Health Underwriters. She has served on the California Executive Board for the past six years, including a two-year term running their charitable foundation.
"Cerrina exemplifies the qualities that make an employee benefits advisor such an important resource and advocate for American healthcare consumers," said Sean Tsui, CoreMark President and Founding Principal. "She works tirelessly on behalf of her clients to ensure they have the insurance coverage they need, when they need it. They know they can count on her, along with our entire team, to deliver the Excellence, Value and Trust that CoreMark promises to each and every client."
Jensen, a longtime resident of Folsom, CA and the only Northern CA broker on the list, said "I'm so honored to be among this group of female leaders in the profession that found me 22 years ago! I love teaching my clients how to get the most out of their benefits programs with cost saving tactics, and our customized employee engagement tools."