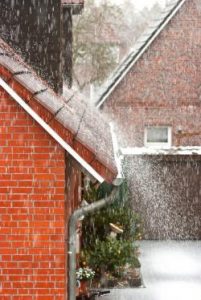 As winter nears, you should review your home and auto insurance policies to ensure adequate protection against the season's harshest hazards.
The easiest way to do this is to contact us to discuss provisions and ask questions.
Some policies cover more than others, depending on what you chose at the time of the policy's activation.
These are some important points to remember about winter hazards and your insurance:
• Most policies cover damage to homes after trees or other objects fall on them, but do not cover debris removal.
• Most policies cover damages from snow accumulation, sleet or ice, wind and blowing snow.
• Most auto policies cover a vehicle if the owner attaches a plow for personal driveway snow removal only.
• Some policies cover damages from frozen pipes if the policyholder took some steps to prevent them from freezing but the damage happened anyway.
• One common occurrence during a bad winter storm is a power outage. If this happens and is caused by a tree falling, the ensuing damages may be covered.
Fortunately, home insurance that covers such an incident typically includes replacement costs for perishable foods stored in a refrigerator or freezer if the power is out long enough for that to happen. However, the maximum food compensation amount is not usually very high.
In-vehicle emergency kit
Traveling during this cold season also requires thought and preparation. It is helpful to carry an emergency kit with the following items while driving any distance during winter:
• Flashlight
• Batteries
• Battery-operated radio
• First aid kit
• Blanket
• Snacks
• Shovel
• Drinking water
• Tow rope
• Jumper cables
• Bag of sand
• Paper towels
If you get stuck or stranded, each of these items may be useful. Tow ropes and jumper cables are good for car problems, and a shovel can help a person dig out of a snow mound – and even back out with the help of the sand.
Food, water and a blanket will be helpful until someone comes to rescue a stranded motorist or until it is possible to drive again.
Keep in mind that blowing snow or heavy rains can create a bad hazard. It is necessary to pull over and wait until the storm passes when visibility is too poor to drive, so plan accordingly even for the shortest of trips.
To learn more about winter safety and insurance, call us.