The Centers for Medicare & Medicaid Services has started issuing new Medicare cards, which it will mail out.
Because identity theft has been on the rise, the new cards will no longer include your Social Security number. This should reduce the chances of someone stealing your identity should you lose your wallet and all of its contents.
Identity theft has affected retirees disproportionately, which is a growing problem. In 2014, 2.6 million individuals aged 65 and over were identity theft victims, compared with 2.2 million the year prior.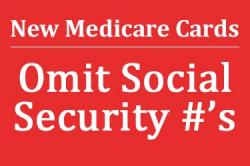 The following are all the details you'll need, thanks to the American Association of Retired Persons:
• The CMS started mailing the cards in April. If you have not received one, you can contact the agency online.
• The cards will automatically be mailed to all 58 million current beneficiaries. You won't have to take any action to receive one.
• Instead of your Social Security number, the cards will instead carry a randomly assigned Medicare Beneficiary Identifier consisting of 11 letters and numbers.
• Your benefits won't change.
Scammers waste no time
Unfortunately, criminals have already started preying on retirees who are receiving the cards.
The scammers are calling Medicare recipients and telling them they must pay for the new card. They ask for their checking account and Medicare card numbers.
If you receive one of these calls, don't divulge any of that information. The CMS would never call and ask for payment for a card.