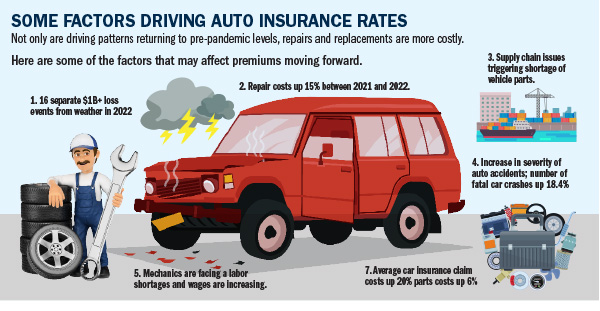 Skyrocketing claims costs and higher accident rates are pressuring the commercial auto insurance market, as insurers impose increasingly larger rate hikes and more are pulling out of the market or restricting who they will cover.
While rate increases have been the standard for nearly a decade, since 2022 hikes are growing larger — often in the 20% range, and that's for firms with few or no claims. Companies that file claims, regardless of if their drivers were at fault in a collision, are seeing even higher rate hikes and some are having trouble finding coverage altogether.
The final three months of 2022 marked the 45th consecutive quarter — or more than 11 years — of increased premiums for commercial auto, according to the Council of Insurance Agents and Brokers.
These rate hikes are putting pressure on all companies with commercial vehicles, but in particular those that operate fleets.
Factors driving higher rates include:
Rising repair and replacement costs — Repair and parts costs increased 15% in 2022 from the year prior, according to the Department of Labor. Parts costs have been rising due to inflation and some supply-chain issues. Additionally, newer vehicles cost more to repair due to the additional technology built into them.
Repair shops are also facing a labor shortage, which coupled with sometimes long wait times for replacement parts is increasing repair times. That in turn triggers ancillary costs such as temporary car rental or other alternative transportation expenses.
Liability costs — These are driven by rising jury awards and so-called nuclear, or exceptionally high, awards. Large trucks and SUVs, popular throughout the country, also cause more damage when they are in accidents and are more likely to leave a third party injured or dead.
Thefts — Events that involved theft of at least one heavy commercial vehicle increased by 17% from 2021 to 2022, according to a report by CargoNet. It also noted that increases in theft activity around major intermodal hubs were significant.
The average value of cargo stolen in an event was $214,104.
Additionally, catalytic converter thefts have become a large cost driver and headache for fleet managers and other companies with many vehicles. According to the National Insurance Crime Bureau, there were 64,000 such theft claims in the U.S. in 2022, compared to just 16,660 in 2020. The units can cost thousands of dollars to replace and vehicles are often out of commission while awaiting repairs.
What insurers are doing
While average rate increases have been in the double digits — many in the 20% range — companies located in high-density areas like San Francisco, San Jose, San Diego and the Los Angeles metropolitan area are seeing even higher rate hikes, due to more and costlier claims and more incidents of thefts compared to less populated cities and towns.
Some carriers have stopped writing commercial auto insurance altogether, citing unstainable losses.
Additionally, many insurers will only accept commercial auto policy if the business also buys it as part of a package that includes property and a liability policy. In other words, many insurers will no longer write a commercial auto policy on a monoline basis.
For fleet owners that find rate increases too high or can't find coverage, we can try to tap the surplus lines market, which consists of carriers not licensed in the state. These are quality companies like Lloyd's of London and similar carriers, but rates are also high in this market.
Insurers are also scrutinizing drivers more. They are declining driving employees that have more than one point on their record, when they used to make exceptions.
Carriers are also pushing their insureds to install tracking devices on their vehicles that measure driving, vehicle speed, how many hours a day a driver is behind the wheel and other metrics. These tracking devices can also help locate stolen vehicles.
What you can do
If you're faced with higher premiums, you can increase your deductible to lessen the blow, but you'll pay more for claims out of pocket when they occur.
If your premiums have increased dramatically or if your insurer is not renewing your policy, we will look for another carrier or try the surplus lines market.
But be prepared for additional demands from the insurer, including ensuring you have drivers without multiple driving infractions, being prepared to also put other coverages with the carrier and installing tracking devices on your vehicles.