By now, you've likely noticed that your commercial automotive insurance rates have been increasing since last year, and for now there seems to be no slowing the momentum.
The increase is probably noticeable since the period between 2011 and 2016 saw rates drop thanks to a number of factors, including fewer accidents, fewer cars on the road and more competition among insurance companies vying for your business.
In this article we look at what's behind the increase in rates.
More drivers
More people are driving than since the recession that started in 2008. When millions of Americans lost their jobs and money was tight, fewer people were driving. And during this same period global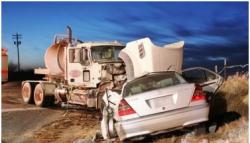 oil prices dropped to their lowest level in more than two decades.
Now, with gasoline still cheap and an improving economy, more Americans can afford to drive – and drive more.
But with more motorists come more accidents, which are paid for by insurance companies.
On top if it all, the number of miles driven per motorist is also increasing.
Distracted driving
The number of accidents has also risen because of an increase in unsafe driving practices, particularly by motorists who are distracted by their mobile phones.
According to the AAA Foundation for Traffic Safety, about 87% of drivers admit to engaging in at least one risky behavior while behind the wheel, including using their phones and not wearing seatbelts.
Claims costs increase
Besides more accidents, the costs of claims are also on the rise. There are three main reasons claims costs are increasing:
• Rising cost of medical care for people injured in accidents
• Rising cost of auto repairs
• Rising cost of auto parts
According to a recent study by CarMD, the largest repair cost comes from replacing the expensive technology that's common in newer vehicles, as body shops struggle to afford the special equipment and training required to perform the repairs.
Uninsured motorists
The number of uninsured drivers continues to increase and take its toll on the rest who play by the rules.
Thirteen percent of drivers drive uninsured and claim payments for them have risen by 75% over the past 10 years, resulting in a $14 premium increase for every insured individual, according to the Insurance Research Council.
Inexperienced or undesirable drivers
As the economy has grown, companies are having a hard time finding experienced, good drivers. With more inexperienced employees driving commercial vehicles increasing, the number of accidents has also risen.
Fewer insurers
There's been a small shakeout in the commercial auto market and there are now fewer players than before, and that's resulted in rates increasing as insurers get more selective about which policies they will write.
The takeaway
With auto insurance premiums on the rise for the foreseeable future, it's more important than ever to be aware of the steps you can take to save on your premiums.
Call us to discuss your options.