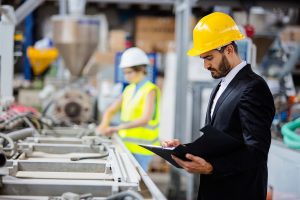 OSHA can look beyond five years to assess "repeat violations" when considering the penalties against an employer for breaching workplace safety regulations, a U.S. appellate court has ruled.
Repeat violations can be assessed at 10 times the amount of a safety violation, which makes the ruling a game-changer for companies who have been cited more than once, even if that citation was issued more than five years ago. It increases the stakes for employers who until now chose not to contest more routine violations because of the cost of defending them.
Under OSHA regulations, the maximum penalty for a serious violation is $12,934, but if it's not the first time OSHA has cited the employer for the infraction, the maximum fine balloons to $129,336.
Up until 2015, the agency would typically not look back more than three years when deciding if a violation was a repeat. But in 2015, OSHA changed that period to five years in the field operations manuals for its inspectors.
Despite those changes, the U.S. Second Circuit Court of Appeals ruled in February this year that the field operations manuals are not legally binding and that OSHA is not restricted from going further back than five years to establish repeat violations.
The court made the ruling in the case of a company called Triumph Construction Corp. that had been cited in 2015 for a repeat violation, and which OSHA had fined based on Triumph receiving a prior citation for the same infraction more than three years earlier.
Triumph challenged OSHA's authority to go back more than three years to establish a repeat violation, saying that doing so was "arbitrary."
But the court stated that the earlier guidance of three years and the new guidance of five years were not actually binding on the agency because the Occupational Safety and Health Act or OSHA regulations do not actually set time limits on issuing repeat citations.
What you can do
The best option for employers is to make sure they are in compliance with all OSHA regulations in the workplace in the first place, and have all the required safety precautions in place to reduce the chances of workplace incidents.
For employers that have been cited before, it's of utmost importance that they continually pay special attention to safety issues for which they've already been cited. Now that this ruling has set a precedent, it could open up all employers to repeat violations no matter how long ago they were cited for the original infraction.
The law firm of Fisher Phillips, in a blog on the lawsuit, recommends that employers who may have been reluctant in the past to challenge a citation, should consider doing so if they feel they have a good-faith defense. If they are successful in fighting the citation, it cannot be used as the basis for a repeat violation.
"The cost-benefit analysis for contesting non-repeat citations has changed. If an employer previously believed that contesting a $12,500 serious citation was not worth the legal cost, the risk of being hit with a repeat violation $125,000 several years down the road may tilt the balance toward contesting those lesser citations," Fisher Phillips wrote.
The law firm said that employers should be especially vigilant about contesting citations that involve "a routine activity, task, or equipment where a repeat [violation citation] is more likely to arise in the future."
It also emphasized the importance of maintaining comprehensive records from prior OSHA inspections and citations and documentation about actions taken to fix the problem, in order to avoid citations for the same hazards in the future. "This will hopefully prevent the issuance of a repeat citation, no matter what the repeat time period OSHA may attempt to enforce," they wrote in their blog.