No doubt you've heard of the "drive-by" Americans with Disabilities Act lawsuits that are filed by plaintiffs who see ADA violations at businesses (like entrances that are inaccessible by wheelchair) just by driving by the location.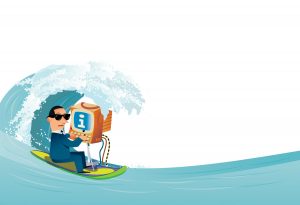 Now, recent court decisions could pave the way for a new class of ADA claims where disabled individuals have trouble navigating a company's website – call them "surf-by" claims.
Courts recently ruled in favor of plaintiffs who have sued retailers – in two separate lawsuits – claiming violations of Title III of the ADA by having websites that could not be used by disabled individuals. Additionally, some retailers and hotels have been sued for not including on their websites information to help disabled customers navigate their facilities.
The rulings for the plaintiffs in the cases could have consequences essentially for any business that has a website, as they could be used as precedent for similar lawsuits by any enterprising plaintiff by just surfing the Internet.
In the Florida case, Gill vs. Winn-Dixie Stores, a visually impaired plaintiff claimed he was unable to properly use the grocery store chain's website, alleging it failed to interface well with his computer access technology software. While the company does not sell anything online, customers can download coupons and search store locations.
The man sued under Title III of the ADA, claiming that he was deterred from shopping at one of the company's stores because he could not review and choose digital coupons and could not easily locate the store nearest him on the website's "store locator" feature. He said he was also unable to use the website's system for ordering prescription refills online for in-store pick up later.
The judge, after a short trial, held that the website was a service in connection with a place of public accommodation covered by Title III because it offered services that had a nexus to the physical stores: coupons, locations and prescription refills. As a result, the website must be accessible under the ADA.
The judge ordered the chain to pay the plaintiff's attorneys fees and submit a plan for upgrading the website to accommodate visually impaired individuals that use computer-assisted technology.
A week after that ruling, a U.S. district judge of the Central District of California rejected a motion to dismiss a lawsuit by a blind plaintiff who had sued Hobby Lobby over the accessibility of the retailer's website. The ruling paves the way for the plaintiff to continue his lawsuit against the chain.
Hotel example
A hotel trade association also advised its members that they could face a legal threat if their websites don't offer enough information to disabled users. It cited examples such as not listing on the website if the hotel has rooms with roll-in showers or a strobe emergency system for visually or hearing impaired guests.
What should businesses do?
Fisher Phillips, an employment and labor law firm, recommends:
If you have a website and a physical location that customers would go to, you may need to consult with an accessibility consultant or counsel to identify any barriers to use on your website or if your site fails to include information on accessibility to your premises.
Ensuring that your website accommodates visually impaired individuals that use specialized equipment for surfing the web.