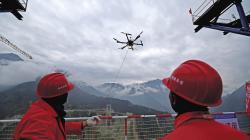 While safety improvements slowly take hold in the construction industry, some firms are turning to technology to reduce workplace injuries.
Owners and management have been scrambling to find new and better ways to monitor employee safety and prevent accidents as the industry grapples with growing workforces that often include new workers with little experience.
There are also language barriers as the number of foreign workers entering the trade continues growing as employers struggle to fill positions.
Construction, for example, is one of the least-digitized sectors in the world, according to research from The McKinsey Global Institute. But that's changing as technologies like helmet cams and smart glasses, smart safety vests, drones, and even smart boots are being employed.
The technologies are aimed at both training new workers in the safety aspects of the job and warning them if it appears that danger is imminent. This type of real-time communication has been proven to reduce risk and improve quality.
And there is an added benefit in that most of the new technologies also collect data that can be used if a contractor is sued for construction defects.
Here are some of the new technologies that contractors are using on their worksites, according to The Hartford, which recently published a paper on trends in construction safety.
Smart glasses and helmets
Smart glasses essentially capture video from the view of the worker. Smart helmets do the same through a camera mounted on the unit.
This wearable technology can help train less-experienced workers by allowing management to monitor their work from a different location.
By monitoring the action in smart glasses, management can:
• Flag mistakes that workers make so that they can be fixed to avoid a construction defect. That's because new instructions can immediately be sent to a worker who has made a mistake.
• Improve safety in real time, including alerting workers of dangers.
• Be used to train workers and enhance communication among employees and supervisors.
• Improve decision time and work quality by allowing management to review video.
Some helmets are also equipped with display visors that can dynamically project relevant information onto the surfaces of objects in the wearer's field of vision.
Smart safety vests
Some new safety vests will alert workers when they're entering a dangerous area at a job site. There are also new vests that can monitor a workers' heart rate and stress levels and alert them and supervisors if they are at unsafe levels.
Some vests even will send a signal to slow or stop heavy equipment when the vest is detected nearby.
There are also GPS-enabled safety vests that track worker locations across crowded jobsites. As a result, workers within a geofenced jobsite can be located with the utmost precision – within 8 inches, in fact.
Smart boots
Some boots on the market now have sensors that can detect temperature changes, and track location and motion through GPS and Wi-Fi.
From a safety perspective, the ability to track a worker's location could be extremely helpful during a time of crisis.
Drones
Some contractors are using drones to monitor unsafe practices on job sites. Since a supervisor can only be at one place at time, a drone with a bird's eye view can provide real time monitoring of many workers at the same time.
Contractors are also using drones to monitor and document the quality of a project. They can also be used to keep clients up to date on the progress of a project, while documenting the project for possible future questions about building to specifications or code.