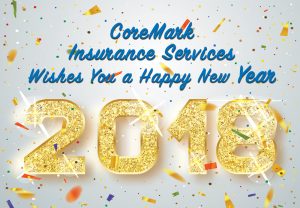 While you may have made some good New Year's resolutions, to make sure that you are not leaving anything to chance you should also revisit your insurance policies.
You may have acquired new property, upgraded your home or bought new stuff for your house and, considering the increasing risks of natural catastrophes, you may now have more risk than you're aware of.
By taking a little time, you can ensure you're adequately protected and that you won't have any unpleasant surprises if you have to file an insurance claim. We recommend you do the following:
Talk to us
Call us or schedule an appointment to discuss your current coverages. We know the right questions to ask to see if anything has changed that may affect your liability risk, or if you may be under- or over-insured.
Going through this with us can help identify new risks and find out if you may have any impending changes that will affect your insurance needs during the rest of the year.
Revisit your policies
Yes, reading policies isn't much fun, but unfortunately most people don't go through them until they actually need to file a claim. Re-familiarizing yourself with the details can save you from headaches later.
Here are some items you may want to check for:
The size of your deductibles. Perhaps you feel you need to save money on your monthly premiums, which can be done by increasing the size of your deductible. Or you may want to have a lower deductible in exchange for a higher premium.
Does your auto policy include towing or the cost of a loaned car if your vehicle needs repairs after an accident? Do you have gap coverage to cover the balance of your loan in the event of a total loss? If your policy is lacking these and you feel you need this coverage, you can talk to us about adding it.
Does your policy pay the actual cash value (what property is worth after depreciation) or actual replacement cost for property damaged by a fire or other covered event?
Do you have coverage for trending topics like harassment (EPLI coverage) or data breaches (Cyber Liability).
Do you need additional or other types of insurance?
One thing is clear: There is an obvious increase in the number of natural disasters occurring the world over. The costs of damage caused by floods, hurricanes, tornadoes and wildfires are also on the rise.
If you're concerned about possible flooding, earthquakes or wildfires, you may need to purchase additional coverage. Flood policies are usually purchased from the National Flood Insurance Protection Program, while earthquake coverage would need to be bought separately from your homeowner's policy.
Check your homeowner's or renter's policy
You may not have to contact us after buying pricy jewelry, antique furniture, or a gigantic flat-screen TV, but it's worth the call.
This could also be a good time to consider updating your home inventory so you have accurate coverage for your belongings and an accurate list of items like works of art, collectibles (stamps, automobiles, firearms, paintings, etc.), jewelry and antiques. Take photos of your valuables in each room and save them to your cloud for easy access in case of a loss.
Although your homeowner's or renter's policy protects valuables against a covered loss or theft, coverage is only provided up to a certain limit. When you make a substantial purchase, it's important to review your policy and possibly increase your limits and coverage.
Also, if you got a new pet for Christmas, that could affect your coverage, so it's important to speak to us and make any adjustments necessary to keep your policy up to date.
And if you did any home remodeling or added a deck or a pool or other item, the value of your home may have increased. That means you'll need to make sure your policy covers the added value.
You may also qualify for homeowner's insurance discounts. Even small things, like adding a burglar alarm or a sprinkler system, could earn you a discount.
Best practices for your employee benefits program in the new year
Review your monthly statement to ensure additions and terminations have taken place.
Update employee deductions whenever enrollment changes happen.
Monitor employee hire dates to offer your benefits program to new hires in a timely fashion.
Collect waiver forms from eligible employees waiving or declining your coverages (i.e. medical, dental, vision, etc).
Encourage employees to reach out to CoreMark if you have questions or bills you think are incorrect.
Review statutory and documentation requirements for employers, and new ones that may apply as you grow.
Applicable Large Employers:

Monitor measurement periods for variable hour employees.
Prepare for 1094/1095 filing to prevent missing deadlines.
You can also print out our Best Practices Checklist here.