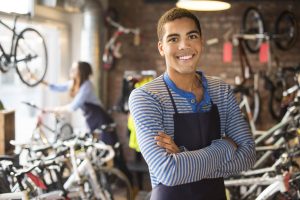 You may be considering taking on some extra workers for the summer months, and often many employers will gravitate towards hiring teenagers looking for temporary work.
If you are planning on hiring any workers under the age of 18, you should familiarize yourself with federal and any state laws on child labor restrictions.
The Fair Labor Standards Act contains rules for employing minors, including that they are entitled to the prevailing minimum wage and overtime. But it also includes provisions for when minors can work and what kind of work they can do.
The FLSA's child labor restrictions are heavily enforced and management bears the burden of abiding by these rules, so it's best to study up on the restrictions.
Hazardous work
Minors are prohibited from any occupation that's on the U.S. Department of Labor's list of hazardous occupations. This includes, among many others:
Driving a motor vehicle
Trenching and excavation work
Roofing work
Bailing
Using power-driven tools and machinery
The above are the only laws that apply specifically to 16- and 17-year olds. There are some additional provisions for 14- and 15-year-olds, who can generally do jobs like:
Office and clerical work
Intellectual and creative work (like design)
Cashiering
Stocking shelves
[su_button url="https://coremarkins.com/cmk-10-steps-employee-benefits-rollout" style="3d" background="#fdcc09″ color="#1a1a1a" size="5″ center="yes" icon="https://coremarkins.com/wp-content/uploads/2018/06/checklist-1622517_640.png" desc="10 Steps to a Successful Employee Benefits Rollout" title="Get the Checklist"]DOWNLOAD NOW[/su_button]
The federal youth employment provisions limit the times of day, number of hours, and industries and occupations in which 14- and 15-year-olds may be employed. If it's summer and school is out of session, you have leeway to let them work eight hours a day. But if they stay on during school, consult the child labor section of the Department of Labor's website.
Tips
Get a USDOL-sanctioned age certificate – This will help you avoid misjudging a minor's age and advertently violating child labor laws.
Clearly describe job duties – This will help you ascertain whether the work you are expecting the minor to perform does not conflict with regulations on prohibited work. Take extra care when hiring someone younger than 16.
Tell other workers the exact tasks the minor can do – This will avoid "mission creep" if another employee decides to ask the minor to perform additional tasks that were not in the original job description. This will avoid a situation where they may be asked to do something they are prohibited from doing.
Proper supervision – Make sure that your minor employees are properly supervised. A good idea is to assign a more experienced employee to work with them to ensure they are doing their job properly and safely. This also frees up supervisors from having to constantly monitor the young employee.
[su_button url="https://coremarkins.com/cmk-10-steps-employee-benefits-rollout" style="3d" background="#fdcc09″ color="#1a1a1a" size="5″ center="yes" icon="https://coremarkins.com/wp-content/uploads/2018/06/checklist-1622517_640.png" desc="10 Steps to a Successful Employee Benefits Rollout" title="Get the Checklist"]DOWNLOAD NOW[/su_button]