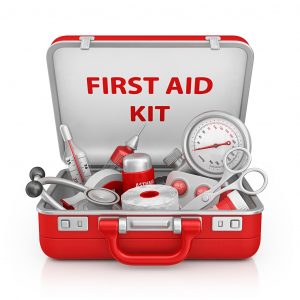 Workplace injuries cost employers hundreds of billions of dollars every year. The direct costs of paying workers' compensation payments to injured employees now tops $1 billion every week, according to information from the Occupational Safety and Health Administration.
While most companies focus on workplace safety and try to keep their employees safe from industrial accidents, they must also keep on hand proper first aid kits. And if you haven't updated your kit in the past few years, you should know that OSHA in 2015 changed the minimum allowable standard for basic first aid kits.
Here's what you need to know:
Inventory your first aid kits, according to the specifications of American National Standards Institute ANSI Z308.1. 2015, Minimum Requirements for Workplace First Aid Kits. Use your OSHA 300 log of work-related injuries to inform your stocking decisions.
For most low-risk worksites, the minimum inventory standard is outlined in ANSI Z308.1.1978 (See sidebar).
Larger workplaces should have multiple first aid kits.
Include personal protective equipment (PPE) to protect workers from blood-borne pathogens. Protective gloves are a minimum standard, but you may want to consider stocking masks, face shields and gowns, depending on your particular workplace hazards.
Check first aid kit inventories at least every three months.
Over-the-counter medications are authorized for inclusion in company first aid kits. But employers should avoid stocking any medications likely to cause drowsiness.
All medications in the kit should consist of individually packaged doses, where any tampering is readily evident. Don't stock bottles.
Check expiration dates on first aid kit supplies and replace items as needed.
Check flashlight batteries and replace as needed.
All markings must be legible and permanent. Kits and locations of kits should have clear and prominent signage.
Note that the ANSI Z308.1.2015 standard is a minimum. Some worksites have a more extensive required inventory, because of their industry or because of specifically identified hazards. For more information about your specific industry and type of worksite, visit www.osha.org
Minimum Requirements for Class A Workplace First Aid Kits (per ANSI Z308.1.2015)
Item and minimum quantities               
1 Absorbent compress, (32 sq. in.)
16 Adhesive bandages (1in. x 3in.)
10 Antibiotic applications (0.5g)
1 Adhesive tape, 2.5 yards (457.2cm)
10 Antiseptic, 0.5g applications
1 Breathing barrier
1 Burn dressing (gel soaked) (4in. x 4in.)
6 Burn treatment 0.5g applications
1 Cold pack (4in. x 5in.)
1 Fl. Oz. Eye/skin wash
1 First aid guide
6 Hand sanitizers
2 pairs of Medical exam gloves
1 Roller bandage (2in. x 4 yards)
1 Roller bandage (4in. x 4 yards)
1 Scissors
2 Sterile pads (3in. x 3in.)
2 Trauma pads (5in. x 9 in.)
1 Triangular bandage
Workplaces requiring Class B first aid kits have higher stockage requirements, and must include a tourniquet.