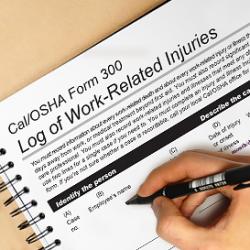 Despite the federal Occupational Safety and Health Administration pushing back the deadline until Dec. 31, 2017, about a third of workplaces that were required to electronically file their 2016 Form 300A in a timely fashion, failed to do so.
Now OSHA has started a crackdown on employers that failed to file their forms after the agency stopped accepting the 2016 forms as of Jan. 1, 2018.
In February, compliance officers were instructed to initiate inquiries into whether workplaces had electronically filed their 300A forms for 2016. Failure to file can lead to an other-than-serious citation, with a maximum penalty of $12,934.
Who is required to file electronically?
• Establishments with 250 or more employees that are currently required to keep OSHA injury and illness records.
• Establishments with 20-249 employees in certain industries with historically high rates of occupational injuries and illnesses.
OSHA has until June 15 this year to issue citations to those employers who failed to electronically file the required information.
Exceptions
There are some exceptions to having to comply with the new electronic filing rules for employers who operate in states with OSHA-approved workplace safety agency plans that have yet to adopt regulations requiring electronic submission of injury and illness reports. The states in question are:
• California
• Maryland
• Minnesota
• South Carolina
• Utah
• Washington
• Wyoming
New rules coming
For 2017, OSHA is not yet requiring that applicable employers file electronic OSHA 300 logs or 301 forms as it is in the process of devising new rules. The deadline is currently July 1, 2018.
The two types of establishments currently required to submit their forms electronically are expected to continue to do so under the new rules.
For applicable forms or information, you can check out our Cal OSHA 300 page.