Summer's almost upon us and when many Americans take a vacation, they will hit the road.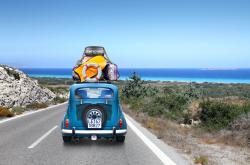 Road trips are part of the American lifestyle, but when it's time to travel by car, you should be prepared, especially now that it's easier to drive further as your kids are distracted in the back watching movies or playing on their iPads. And since you'll all be spending long stretches in the car, you'll want to make sure that you've taken all of the necessary safety precautions.
The National Highway Traffic and Safety Administration (NHTSA) offers the following tips to make your next family road trip safe and enjoyable, and with minimal risk.
Service your vehicle
Before hitting the road for a long stretch, you need to make sure that your car is in good working order and has had its latest regular service and tune-up. Take your car to the shop and have them check your tires, battery, belts, fluids and air conditioner. Also, if you live in a hot climate, consider motor oil with a higher viscosity.
Get a good night's sleep before you leave
Driving while drowsy can reduce your reaction time and judgment as if you were impaired by alcohol. Drive only when well rested, and if another licensed driver is in the car, it's a good idea to switch every few hours.
Check the child seats
Make sure that your children's car seats or booster seats are installed properly. The NHTSA estimates that 80% of car seats are not installed correctly, which puts your kids' lives at risk should you have an accident.
Call 866-SEAT-CHECK to find a nearby location for a free safety seat inspection.
Emergency preparedness
The NHTSA recommends packing an emergency kit that includes:
• Water
• Warm blankets
• A flashlight
• Jumper cables
• Flares
• Tools to change a tire
• A fully charged cellphone
• A first aid kit
You may also want to consider buying a roadside assistance plan that will cover the costs of a tow and assistance if your vehicle brakes down.
Secure the back seat
Activate safety locks in the back seat doors and windows. Check to make sure that you don't have any stray items that can injured your kids in the back or, if you have young 'uns, make sure you don't have any choking hazards. Also remove any items the kids can pick up and throw or that can go flying should have to suddenly put on the brakes.
Pack heavy items low
Store heavy items low in the seat wells so they won't become projectiles during a sudden stop. And if you have an SUV with an open cargo area in the back, make sure that you strap or batten down heavy items like suitcases or strollers.
Keep your back straight
To reduce the chances of becoming sore from sitting in the driving position for extended periods of time, try to make a conscious effort to sit up straight and not slouch. Slouching can also make you drowsy, which can endanger your entire family as well as other motorists. Bend your legs so you can exert strong pressure on the brake pedal, and bend your elbows slightly so that you can use all of your strength to turn the wheel if necessary.
Take frequent breaks
Try to avoid driving more than two hours straight without a break. Also drink lots of fluids, which will force you to make bathroom stops and stretch your legs.
No Mr. Magoo driving
Make sure that you are looking far enough down the road to survey what's ahead and so that you can see any oncoming dangers.
In dense traffic, you need to look at least 10 cars ahead, the NHTSA recommends. In faster-flowing traffic, reduce that length to five.
Don't touch the phone
If you're on vacation, no phone calls should be so important that you have to pick them up right away – and certainly not when you are behind the wheel. It's been proven that even talking using a hands-free device is distracting. Talking on the phone and driving at the same time is like talking on the phone and watching TV. You won't be as focused on the task at hand and may not see a danger that could imperil you and your family.